Baroness Tanni Grey-Thompson and Professor Laura McAllister discuss gender inequality in women's sports leadership
With great power comes great responsibility, and with game-changing responsibility comes a lot of pressure. This is something women sports leaders know all too much about. Over the past few decades, the increased inclusion of women in sports governance has been a key factor in achieving successful change for gender equality.
Women in Sport, a charity dedicated to challenging the institutional biases which keep women and girls from getting more involved in sport, sees the advancement of women in sports governance positions as essential to creating an equal playing field. Speaking with Further, the charity's campaign and communications officer Shanika Flanore asserts how increasing the role of women in sports leadership helps "challenge the long-entrenched policies, structures and culture [in sport] which have benefitted men and excluded women."
Forging the future
One of the UK's most influential sports leaders is Baroness Tanni Grey-Thompson. Following her immensely successful career as a wheelchair racer during which she won 16 Paralympic medals (11 of which were gold), Grey-Thompson has been a member of the House of Lords since 2010 and has sat on the boards of UK Sport, the London Marathon, and SportsAid.
In July 2022, she will be adding another leadership position to her amazing career when she becomes the new chair of Sports Wales. Speaking to Further about her experience in sports governance and plans for the future, tackling gender-related prejudices was high on Grey-Thompson's agenda.
We value sporty boys more than sporty girls. We have to [start doing] things in a different way

Tanni Grey-Thompson
"Currently, we treat sportsmen and sportswomen differently," Grey-Thompson says critically. "We value sporty boys more than sporty girls. There's more media coverage for men, there's more sponsorship. We have to [start doing] things in a different way."
When it comes to challenges she has faced during her career, she discusses the difficulty of getting the message across that representation and inclusion requires more than just tokenistic appointments and gestures. "Protected characteristics are not a game of Top Trumps," she says. "You can't pick and choose, it has to be about giving opportunities to everyone."
To encourage more women and girls to get involved in sport, behaviours as well as attitudes must be tackled. For many years Grey-Thompson has been a prominent campaigner for increased safeguarding in sport and for legislating to outlaw inappropriate and abusive student-coach relations. In 2017, she led the UK government's Duty in Sport review which demanded immediate change in order to make sure "the balance between welfare and winning," a problem disproportionately affecting women and minors in UK sport, was redressed.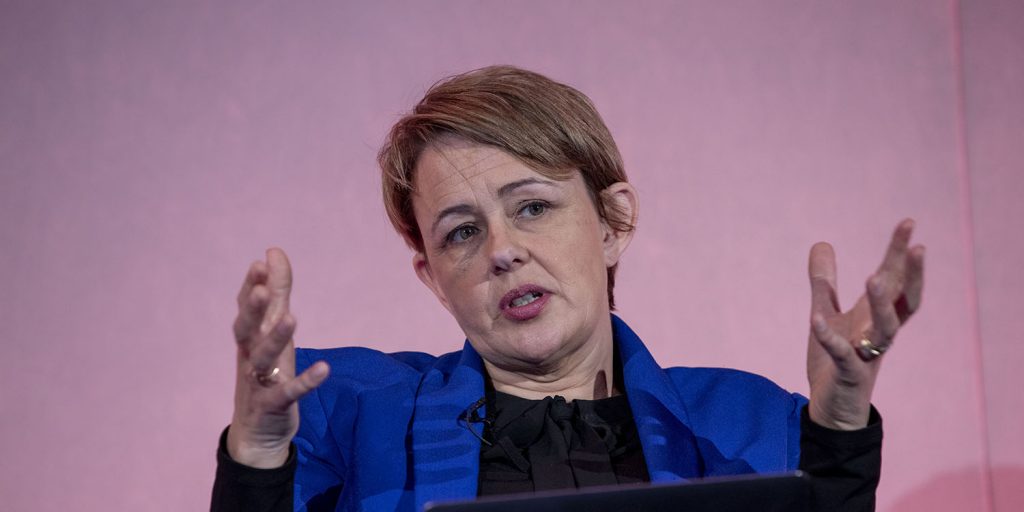 Five years on, Grey-Thompson is relieved to see the review's recommendation, that the government amend its Positions of Trust law to protect 16 and 17-year-olds from abusive coach behaviour, finally being acted upon. But like many, she is frustrated at how long changes like this take. "And there's still a lot to do," she sighs. 
However, Baroness Tanni Grey-Thompson's work is evidence of Women in Sport's conviction that with more gender balanced leadership, the greater challenge to inappropriate behaviours and prejudices in sport, and the creation of a safer, more inclusive sporting culture.
Power struggles
Another woman driving change in the governing of UK sport is former Wales footballer turned academic and sports leader, Professor Laura McAllister. Having led the way to getting women's football recognised by FA Wales in the 1990s, McAllister says it's been "incredibly satisfying" to be involved in the development of women's football in the UK and internationally over the years. However, like Grey-Thompson, the former captain, and recent runner-up in the election for UEFA's female representative on the FIFA council, is critical of how slow progress is to include more women in sports leadership.
"It's pretty unforgivable that in all sports governing bodies, women have such limited roles," McAllister says. "All organisations, including FIFA, should be doing far more to include women, and not just include women, but get the right women who can be strategic and who can speak for football and sport.
"If you know too much [about sport] then you can be at a disadvantage

Laura McAllister
"In governing bodies there's a tendency to choose women who are not involved with sport," McAllister continues. "If you know too much [about sport] then you can be at a disadvantage, because you're threatening to the people who currently hold those positions… Men are reluctant to give up their authority and power."
McAllister, previous chair of Sports Wales from 2010-2016, names Baroness Tanni Grey-Thompson as one of her inspirations, explaining how in the past she has reached out to Grey-Thompson for advice and to discuss the challenge of being a woman in sports governance, leading the way for gender equality in sport. 
Having a community of other powerful women to look up to and go to for support is "really important" and hugely rewarding, McAllister says. And while she warns "we've [still] got a lot of work to do to prepare the ground" for better change, she is hopeful that the future "will bring plenty more women leaders into sport."
Inspiring individuals
Progress is thankfully being made within many sports organisations. The Commonwealth Games Federation's gender equality strategy guarantees at least one woman takes a vice presidential position on its executive board. Its current executive has a 50/50 split between men and women, and has retired swimmer Dame Louise Martin as its president. In cricket, retired all-rounder Clare Connor became the first woman to be appointed as president of the famous Lord's based Marylebone Cricket Club (est. 1787) in October 2021.
Connor, McAllister, Martin and Grey-Thompson are key social inspirations and players in the fight for gender equality. Women in Sport underlines role models as essential for improving diversity and inclusion at all levels of sport.
From players to presidents, more women must be given prominent roles in sports. For, the more women we have to look up to in sport, the more women we will inspire to enter these careers in the future.
Read more about sportswomen as role models.