As the Six Nations begin, Welsh international rugby player Abbie Fleming talks contracts, club competitions and her own career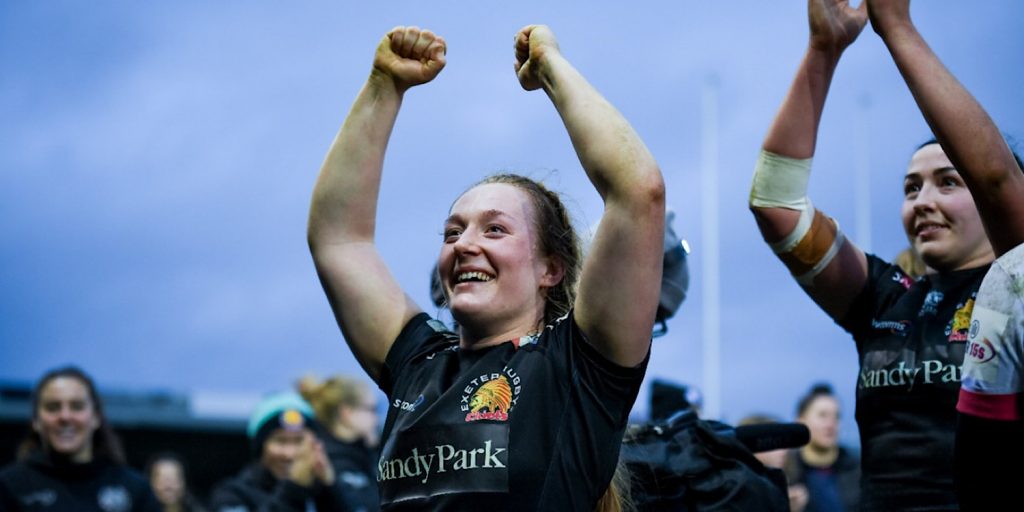 On the side of the mighty Principality stadium sits Cardiff Arms Park, the historic home of Cardiff RFC and the place where everyone, from university students to Barbarians, has made their mark. Now, its synthetic surface is where flanker Abbie Fleming hopes to step out and make her fourth international appearance for Wales.
For the past month the Welsh Rugby Union's (WRU) women's team have been in a training camp at their National Centre of Excellence, a few miles outside of Cardiff. It is here where we find Fleming, 25, shortly after she was selected by coach Ioan Cunningham to be a part of the squad for this year's TikTok Women's Six Nations.
Fleming describes the amazing feeling she experienced when called up for the tournament, "I'm very proud to have been selected and to have been given this opportunity to represent Wales," she says.
The goals for us are to be the best version of ourselves as a nation
Despite being from Exeter originally, the flanker has lived in Wales for years and played for the Llandaff North amateur rugby team before joining the Cardiff Blues women's side. She rose to captaincy there in 2019 and it was then that she made her first international appearance for Wales in a match against Spain. Now, alongside playing for Wales, she is back in her hometown as a part-time physiotherapist and back row for the Exeter Chiefs women's squad.
Fleming explains that when she found out Exeter Chiefs, the club she had grown up with, was starting a women's team, she "couldn't not join."
"Pulling on the Chiefs jersey every week brings a huge feeling of belonging and family for me," she smiles. "But also playing at an international level is one of the biggest honours of my rugby career."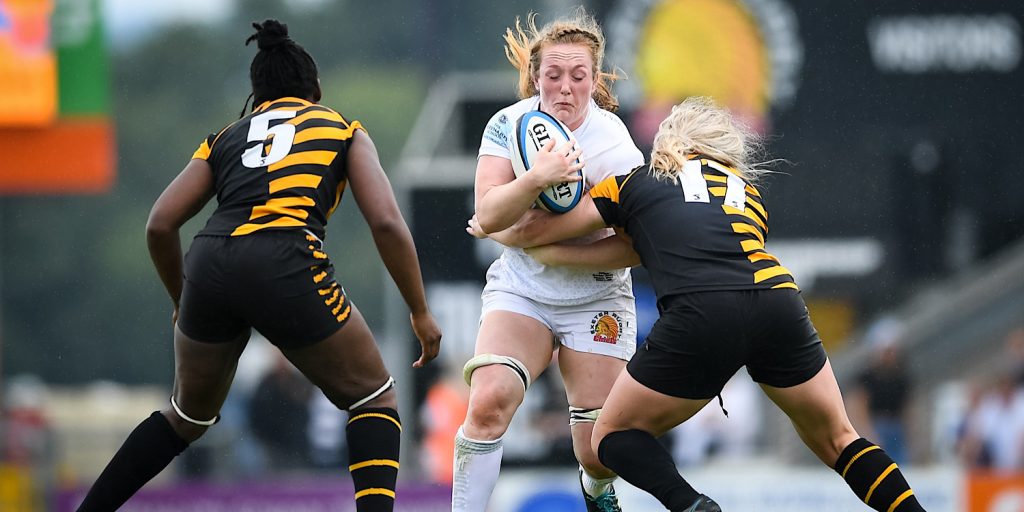 A knock-on effect
In this year's Six Nations, Fleming has high hopes for the Welsh team who have yet to win the tournament. She says that plenty of time has been given to developing new tactics and new plays, but also keeping focussed on the basics. "For us it's going to be about keeping grounded throughout the campaign, and I think we'll do well," she says.
In addition to this, the Welsh team have been given an undeniable boost to their confidence this year following the introduction of professional full-time and retainer contracts to the squad. Fleming herself was one of the first to be placed on a retainer contract, which means that she is paid a part-time salary by the WRU and receives regular training sessions at the Principality Stadium.
It's brilliant that one of the most competitive leagues in the world is right here in the UK.
She describes how this momentous change has already made a "massive" difference to the team. "It's allowed us to work on things that just weren't doable before. It's given us the time to work on certain areas of our game, skills, analysis and in particular recovery. The general mood and morale of camp is great and we are in a very good place," she expands.
For her personally, Fleming reveals that she feels very lucky to have been chosen. She says, grinning, "To have the opportunity to train as full-time or part-time athletes is a dream come true, and it gives me a lot of hope for the future of the women's game in Wales. Young Welsh women can now aspire to be full-time rugby players."
Another big change that will take place this year is that of a new sponsor. TikTok has not only brought in new funding and a new logo, but also new energy to the competition. The Welsh flanker explains that it feels brilliant to be a part of such a well-promoted tournament. "It'll give the women's game great exposure to all ages," she says.
To have the opportunity to train as full-time or part-time athletes is a dream come true
Fleming especially hopes that more young women will decide to get involved as more players joining at the grassroots level will help to increase professional standards. Overall, she wants to see more of women's rugby progress from an amateur to a professional game.
A club conversion
Although the Devon-born Fleming has played for and captained a Welsh rugby club, she admits that there is still a way to go for the WRU at club level. "I think Wales would benefit from some improvements in provision, facilities, medical support and coaching within the club game," she says. The aim, she believes, should be to improve the pathway between club and international level as a way of growing the women's game.
Meanwhile at her own club, Fleming has made 27 appearances for Chiefs in the Allianz Premier 15s, the English league where they are currently in third place. The competition between the ten teams has been very fierce so far this year and, as a key back row, Fleming confirms that the standard is very high. "It's brilliant that one of the most competitive leagues in the world is right here in the UK."
As a fairly new squad only in their second season, Exeter Chiefs have quickly risen up the ranks of the league table, thanks in part, to a diverse selection of national and international players. Fleming says that the inclusion of overseas players makes the competition "bigger and better," and as the season nears its final stages, she has a top four position in sight.
At club level, Fleming is still on a semi-professional contract but she would love to eventually see full-time contracts be brought in across the Allianz Premier 15s. "It's what we are all striving for," she says.
However in the meantime, there are smaller changes that could be made, including continuing to link up with different universities and colleges to find local talent. As a physiotherapist, Fleming would also like to see a growth in the medical support and provisions for a game, as well as an increase in sponsorship deals to give players more financial support.
A forward pass
As well as having high hopes for the continued growth of the women's game, Fleming also has several personal goals. "In the next 5 years I want to carry on playing for Exeter Chiefs and continue to develop and establish myself as a player there," she says, "But next my goal is to be selected to go to the world cup this year in New Zealand."
Young Welsh women can now aspire to be full-time rugby players
Wales will be entering the World Cup in October and have been put in a pool with New Zealand, Australia and Scotland which Fleming expects will lead to some "great matches." She has strong hopes for the Welsh side and only wishes to be there with them.
"The goals for us are to be the best version of ourselves as a nation and express ourselves through the structure we set. We are building as a group, and it will be great to see what we can achieve at the world cup and the lead up to it."
For her, and women's rugby as a whole, many meaningful changes have already been made. It can only be hoped that those in charge continue to step up to the challenge of growing and meeting the standard of rugby that these impressive women have already set.