There are too many documentaries about men's sport that repeat the same thing. Why haven't the stories of inspirational sportswomen made it to the screen?
One of the things we don't always question consciously but need to is why there aren't as many documentaries about women's sport as there are about men's. I was sitting with a friend and we were talking about sports documentaries. She turned to me and asked, "Do you know any good ones about women?" I paused. Both of us looked at each other, perplexed, and shook our heads in unison. The Price of Gold, which explores the rise of Olympic skaters Tonya Harding and Nancy Kerrigan, popped into my head. Venus and Serena, about the Williams sisters, was another one. But how many of us can name a documentary about sportswomen right off the bat?
Where are the women?
If you Google anything along the lines of "best sports documentaries" and click on any of the articles on the first two pages, you'll find that they focus on men's sport – like this one does. Additionally, most of the websites that list these documentaries will be catered to men.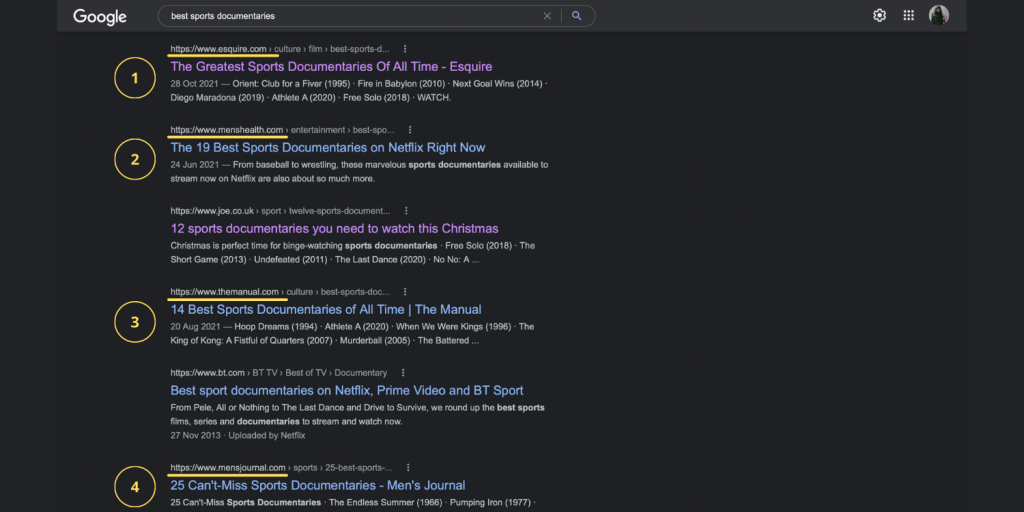 If you were to search for sports documentaries on Netflix and Amazon Prime, they would all be about sportsmen too.
Where are the viewers?
This is because women's sport does not receive equal coverage and is not even half as popular as its male counterpart. YouGov's Women in Sport Report 2021 surveyed sports fans globally, and found that 40% like to watch men's professional sports as compared to 19% enjoying women's. Of the respondents, 40% also stated that they do not follow women's sport due to lack of coverage, and 27% said it was due to being unable to find games easily. The fundamental issue here is that women's sport does not get nearly as much airtime as men's sport. According to research conducted at Purdue University, female athletes have received the same amount of coverage over the last three decades. In 2019, coverage of female athletes on televised news and highlight shows in the United States of America counted for only 5.4% of airtime. In 1989, this number was 5%.
But it is a vicious cycle. Because there is less coverage, women's sport isn't as popular, and there aren't enough documentaries being produced because there is no coverage.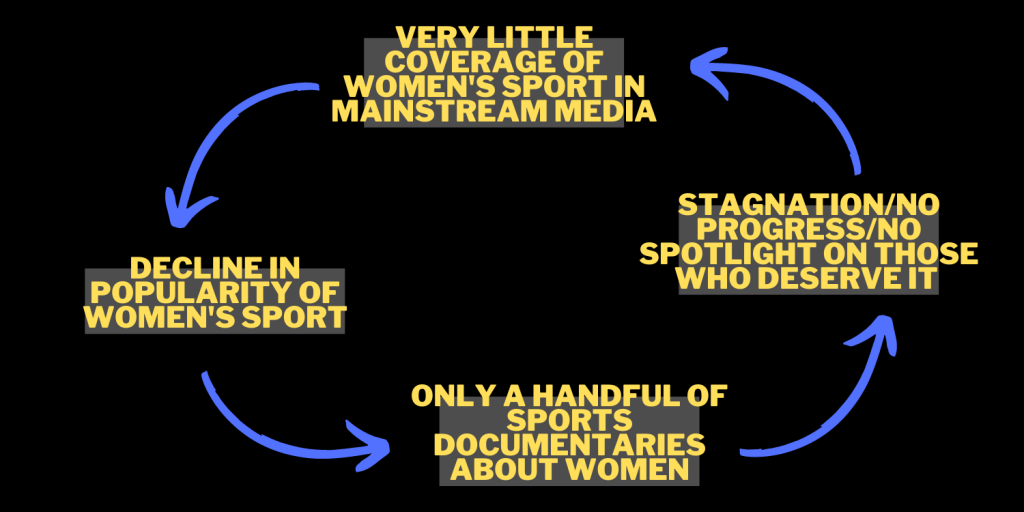 But we want more
Of the documentaries that focus on women's sport, they are overdramatised because they focus on women's struggle, as if a woman must overcome a hurdle to be deemed worthy of the spotlight. For example, Naomi Osaka or Strong Women. While these are important as they showcase how strong women really are, why can we sit through six different projects about Michael Jordan but not celebrate sportswomen simply for who they are? In fact, women have more biological and social hoops to jump through to get to the top step of the podium. This should give filmmakers more incentive to bring their stories to the big screen. Unfortunately, that won't be enough to break the cycle either.
Money is one of the primary reasons. Accounting firm Deloitte reported in 2021 that television and sponsorship for women's sport would soon surpass £760,000 globally. However, this is only a small fraction compared to how much money is brought in through men's and mixed sports—£364 billion. The Washington Post ran with the headline "Women's sports can do at least one thing men's can't, experts say: Get bigger."
As a sports fan, I am grateful for the overabundance of content I can consume when it comes to the men's teams I support. But as a woman, I am disappointed that I can't see myself in anyone I watch on screen. Representation matters. The Wikipedia page for men's football features 72 documentaries. For women's? Eight.
Do I want to see another documentary that overanalyses every single moment in men's sport? No, because it's been done to death. Do I want to see a well-written and well-funded documentary about Nadia Nadim, or following FC Barcelona Femeni's domination in Europe? Yes, a hundred times yes.
Here are Further's recommendations. What do you think can be done to ensure there are more documentaries about women's sport? Further the conversation by connecting with us through our social channels.
Featured image credit: Glenn Carstens-Peters on Unsplash